Sale new GSSI Utility Scan Pro GPR, including SIR 4000 Control Unit, Antenna 400 MHz, 300/800 DF or 350 HS, RADAN 7 Software and Accessories 2 Year Warranty
GSSI Utility Scan Pro GPR sale package includes
SIR 4000 Control Unit, 400 MHz, 300/800 DF, or 350 HS Antenna
3-wheel or 4-wheel cart
2 m control cable
SIR 4000 sunshade
SIR 4000 AC/DC power supply
2x Lithium-ion battery, Dual-bay battery charger
Transit case
2-year warranty
RADAN 7 for UtilityScan, RADAN 7
LineTrac
2 Year Warranty
GSSI Utility Scan Pro GPR Industry Standard in GPR for Utility Mapping and Locating. With UtilityScan Pro, users can quickly identify and mark the position and depth of metallic and non-metallic objects; including utilities such as gas, communications and sewer lines as well as underground storage tanks and PVC pipes. Based on the SIR 4000 controller, the UtilityScan Pro provides the GPR professional with solutions to any underground locating situation.
The UtilityScan Pro is typically used for: Underground utility detection, Environmental remediation, Damage prevention, Geological investigation, Archaeology, Forensics, Road inspection
Expect more from your GPR utility system: The UtilityScan Pro system provides a non-destructive means to accurately locate underground utilities and shallow geophysical characteristics.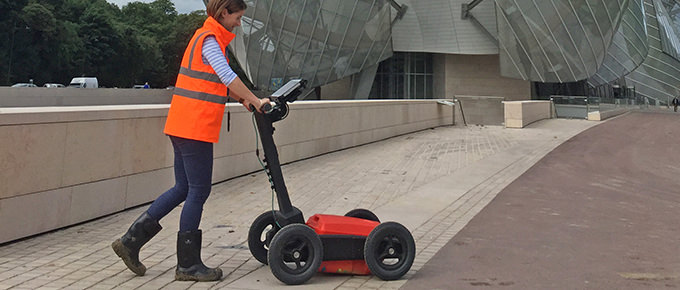 Fully Customizable System: Users can customize the UtilityScan Pro with multiple antenna offerings and cart options. The tailored options provide survey flexibility, from smooth prepared surfaces to rugged terrain with our rugged four-wheel cart, and suit a number of utility locating applications.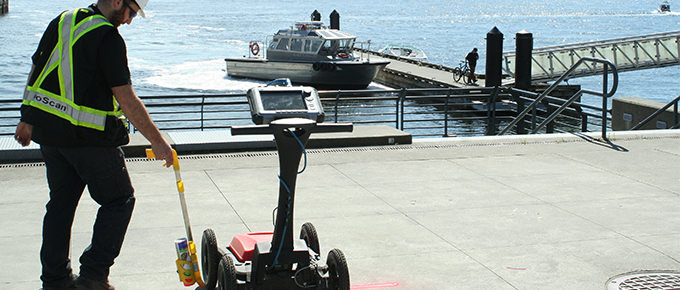 Mark with Confidence: The UtilityScan Pro delivers exceptional data quality and is rugged enough to withstand the job site's toughest conditions. Locate subsurface utilities with confidence.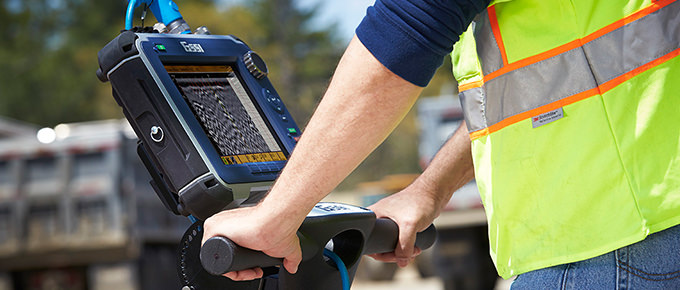 Data Visualization: The UtilityScan Pro system features our state-of-the-art SIR 4000 controller and can incorporate an optional AC power accessory. The SIR 4000 controller incorporates advanced display modes and filtering capabilities for in-the-field processing and imaging. The LineTrac accessory for digital antennas adds the ability to detect AC power and induced RF energy present in buried utilities.
Data Examples
400 MHz Antenna Data Example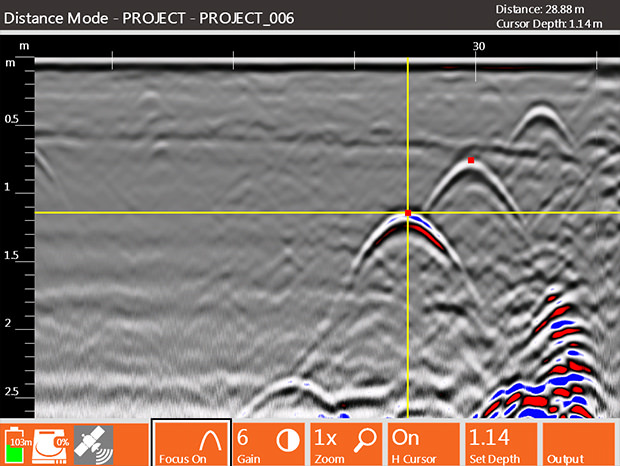 Data illustrates several metallic targets at varying depths. This data was collected with the UtilityScan Pro with 400 MHz antenna.
300/800 MHz DF Antenna Data Example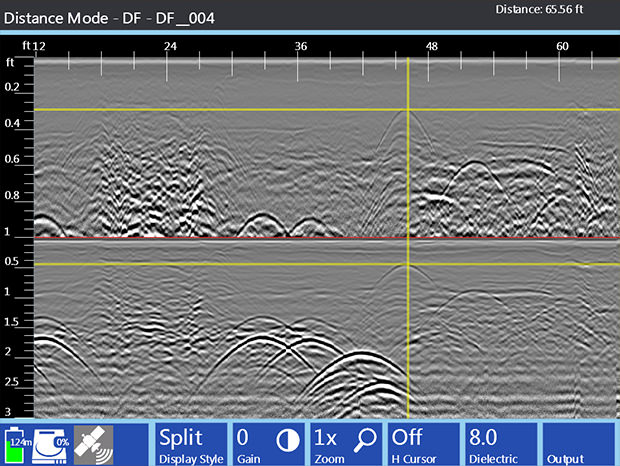 Data represents multiple utilities at shallow and deeper depths. This data was collected with the UtilityScan Pro with 300/800 DF antenna.
350 HyperStacking Antenna Data Example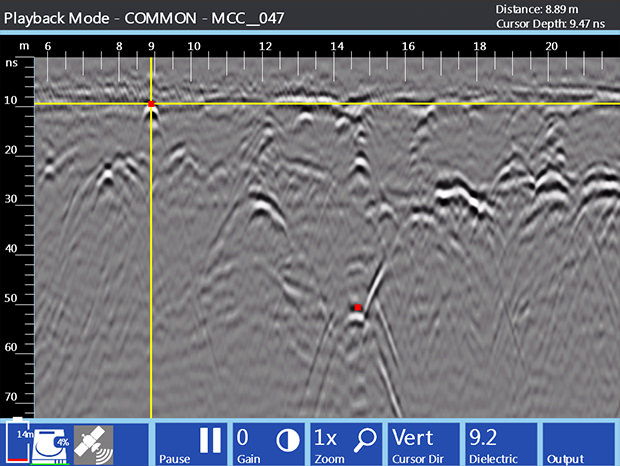 Data illustrates various utilities and trenching efforts at a historic golf course. This data was collected with the UtilityScan Pro with 350 HS antenna.
GSSI Utility Scan Pro GPR Industry Standard Spesifications
System: SIR 4000
Antennas: Compatible with all GSSI antennas
Number of Channels: Records data from 1 single-frequency antenna or 1 dual-frequency antenna
Data Storage: 32 GB Flash, 1 GB RAM
Display: 10.4" LED
GPS: Data logged internally
Display Modes: Linescan, Full 3D
Environmental Rating: P64
Data Acquisition

Data Format: RADAN® (dzt)
Output Data Format: 32-bit
Scan Inverval: User-selectable, up to 4000 scans/sec
Number of samples per scan: 256, 512, 1024, 2048, 4096, 8192, 16384
Operatiing Modes: Continuous (time) or survey wheel (distance triggered) or point mode
Time Range: 0-20,000 nanoseconds full scale, user-selectable Gain: manual adjustment from -42 to +126 dB Number of segments in gain curve is user-selectable from 1 to 8
Standard Real-Time Filters: Infinite Impulse Response (IIR) - Low and High Pass, vertical and horizontal - Finite Impulse Response (FIR) - Low and High Pass, vertical and horizontal
Advanced Real-Time Filters: Migration, Surface Position Tracking, Signal Noise Floor Tracking, Adaptive Background Removal
Automactics System Setups: Storage of an unlimited number of system setup files for different survey conditions and/or antenna deployment configurations
Automatic Antenna Recognition: Automatic recognition of Smart Antennas to allow maximum compliant transmit rate
Languanges: English, Chinese, Japanese and French

Operating

Operating Temperature: -20°C to 40°C (-4°F to 104°F)
Batttery: Inspired Energy Ni2040ED, 3 hour runtime (battery life dependent on level of display brightness)
Transmit Rate: Up to 800 KHz (International) US/Canada and CE rates depend on antenna model

Input/Output

Available Ports: Analog and Digital, RS232, HDMI, Ethernet to PC, USB 2.0 port and mini USB
Ethernet: RJ45 100BT Ethernet
Usb Host: Usb host with external keyboard support, USB flash drive support and Usb hub support

Mechanical

Dimensions: 14x10x2.75 in (36x25x7 cm)
Weight: 10 lbs (4.53 kg) including battery
Relative Humidity: <95% non-condensing
Storage Temperature: -40°C to 60°C (-40°F to 140°F)