New GSSI GSSI StructureScan Mini LT Sale, RADAN 7 for StructureScan Mini LT, 2 Year Warranty
GSSI StructureScan Mini LT sale package includes:
StructureScan Mini LT
2x Lithium-ion batteries, Dual-bay battery charger
Hand strap
Transit case
Quick Start Guide
Data collection grids
RADAN 7 for StructureScan Mini LT
Extension Pole
2 Year Warranty
StructureScan Mini LT Entry Level GPR System for Concrete Inspection. The StructureScan Mini is GSSI's all-in-one GPR system for concrete inspection. This handheld system locates rebar, conduits, post-tension cables, voids and can be used to determine concrete slab thickness in real-time.
The StructureScan Mini LT is typically used to: Locate metallic and non-metallic targets in walls, Inspect bridges, monuments, walls, towers, tunnels, balconies, garages, decks, Map relative concrete condition for rehab planning, Measure slab thickness, Void location
The contractor's choice to safely locate metallic and non-metallic targets within concrete
The StructureScan Mini LT is an all-in-one concrete inspection tool - antenna, positioning system and control unit combo.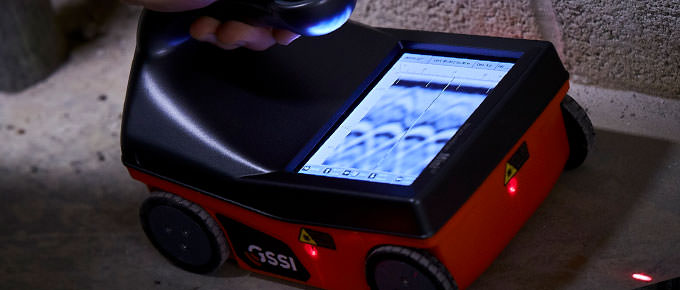 Concrete Scanning Made Easy:
The StructureScan Mini LT is compact and lightweight – weighing only 1.6 kg (3.6 lbs.), making it easy to use on the ground or for above-the-head survey locations.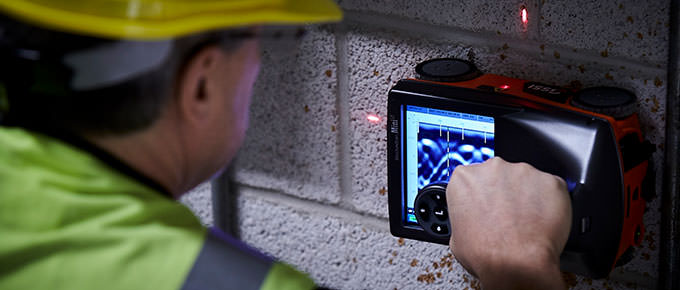 Enhanced Data Visualization:
The StructureScan Mini includes two modes of operation; 2D mode for real-time locating, and 3D mode for x-ray like images of the concrete. This system also incorporates two types of automatic target detection to aid users in interpreting data.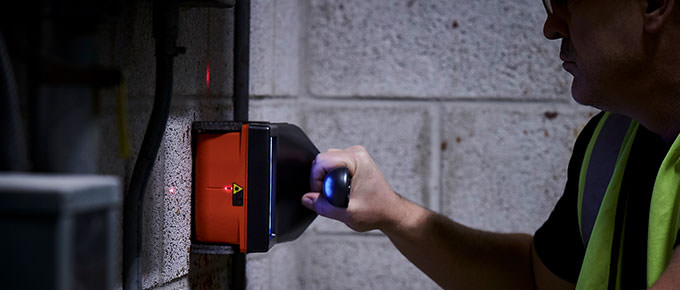 First-in-Class Capabilities
Incorporated into the design is an integrated laser positioning system, located on the front and sides of the unit to help users accurately mark targets. It also provides four-wheel drive to ensure efficient and accurate data collection.
Data Examples
Real-time Mark and Go
This data shows small plastic conduits over rebar mat
Three-dimensional Data
Data illustrates a 3D image of rebar mat
GSSI StructureScan Mini LT Spesification
Memory: Based on SD card size, default is 2 GB
Display: 5.7", full-color
Post-processing: On-screen or via GSSI software (optional)
Battery: 2.5 hour run-time
Environmental Rating: Water-resistant and dust proof (IP-65 rating)
Display Modes: Linescan, Focus and 3D
Available Ports: SD card, USB port
Languanges: English, Spanish, French, German, Korean and Japanese
Operating Temperatur: -4°F to 104°F (-20°C to 40°C)
Weight: 1.6 kg (3.6 lbs)