For sale GE XL GO Borescope Inspection Camera NDT Aviation 2 meters 5mm Deluxe Kit. Articulation is great, excellent working and cosmetic condition. Includes all accessories
Probe is 2 meters in length, diameter is 5mm. There are some surfaces scratched on the outside of the case due to handling.
Overview
XL Go+ VideoProbe is one of the most portable and versatile video borescopes on the market today and with new XpertSuiteTM features like enhanced steering responsiveness, improved probe light output, a sunlight readable LCD and external monitor, XL Go+ provides you with the best possible quality of defect information.
Portavisibility
Redefine remote visual inspection with the new XL Go video borescope from GE Sensing & Inspection Technologies. No cords, no boxes—just outstanding image quality in an incredibly rugged and portable package.
Packed with Features, Portable, rugged and equipped with features make GE video borescopes the best equipment value in the industry
Intuitive, easy-to-use controls
StereoProbe, ShadowProbe and Comparison defect measurement
Servo motor All-Way Probe articulation
Sealed housings for Dust and Water ingress protection to IP55
Integrated Temperature Warning system
1 GB Internal Flash memory
2 USB 2.0 ports, VGA video out
Two or four-hour Li-Ion battery
Full tip optic interchangeability with secure double thread
Custom shipping and storage case included with system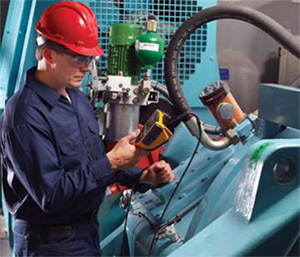 True Portability
Powered by a long-running lithium ion battery, the XL Go VideoProbe system provides inspectors unparalleled access without a bulky base unit, tethered scope or power cord. Weighing only 1.73 kg (3.80 lb), the XL Go VideoProbe system can easily "go anywhere"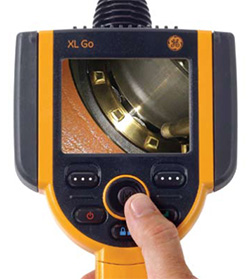 Menu Directed Inspection (MDI)
MDI software automatically annotates saved images, intelligently names files and creates Microsoft Word compatible inspection reports.
Image Quality
XL Go utilizes high-output LED illumination to display outstanding image quality on its full-VGA LCD. Save clear, accurate still images and motion video to the internal flash memory or removable USB ThumbDrive
System and Accessories
XL Go system with two-hour battery
Optional 4-hour battery
AC battery charger
Rigidizer
Mini Magic Clamp
Hand-set Holder
Ball Join
Optical Tip Case
Tube gripper
4GB ThumbDrive
Operating Manual
Standard Shipping Storage Case
Superior All-Way Articulation, Durability and Probe Options

XL Go+'s Versatile Features
XpertSuite—enhances the probability of detecting and identifying flaws using precise steering, superior visibility and easier viewing.
LED technology—produces more light output than most other LED video borescope, uses less power and runs cooler than traditional illumination systems.
VGA LCD—matches display to CCD imager performance for outstanding image quality.
Still images and motion video—captures non-compressed BMPs, compressed JPGs or MPEG video.
Optical tip adapters—offers numerous Field-of-View, Depth-of-Field and Direction-of-View options for enhanced versatility in multiple applications, and are more reliable than LED lenses
Technical Spesifications
System
Case Dimensions: 48.8 x 38.6 x 18.5 cm (19.2 x 15.2 x 7.3 in)
System Weight:: In Case: 6.5 kg (14.3 lb); Without Case: 1.73 kg (3.8 lb)
Power: 7.2V, 5100 mAh or 10,200 mAh Battery Pack; AC: 90-264 VAC, 47-63 Hz, <1.2Arms @ 90 VAC; DC: 10.2V +5%/-3%,4.9 A
Construction: Polycarbonate housings with integrated Versalon™(JP) bumpers
Dimensions: 9.53 x 13.34 x 34.29 cm (3.75 x 5.25 x 13.50 in)
LCD Monitor: Integrated transflective 9.40 cm (3.70 in) active matrix VGA color LCD with XpertBright, 640 x 480 resolution
Joystick Control: 360° All-Way® tip articulation with XpertSteer, bump gesture, menu access and navigation
Button Set: Access user functions, measurement and digital functions
Audio: Integrated 2.5 mm headset/microphone jack
Internal Memory: 4 GB flash memory
Data I/O Ports: Two USB® 2.0 ports VGA Video Out
Brightness Control: Auto and Variable
Illumination Type: White LED
Long Exposure: Up to 12 seconds via auto and manual mode
White Balance: Factory default or user defined XpertVision (optional external monitor):
Weight: 1.12 kg (2.46 lb) with battery
LCD: 16.25 cm (6.4 in) diagonal active matrix VGA color LCD with XpertBright
Resolution: 640 x 480 pixels
Sunlight Readable: 1100 Cd/Msquared
Mounting: 75 x 75 mm (1/4-20) and vesa mount
Battery Run Time: 2 hours
Operating Environment
Tip Operating Temp: -25°C to 100°C (-13°F to 212°F) Reduced articulation below 0°C (32°F)
System Operating Temp: -20°C to 46°C (-4°F to 115°F)
Storage Temperature: -25°C to 60°C (-13°F to 140°F)
Relative Humidity: 95% maximum, non-condensing
Waterproof: Insertion tube and tip to 14.7 psi (1 bar, 10.2 m of H2O, 33.5 ft of H2O)
Ingress Protection: IP55
Software
Operating System: Real-time, multi-tasking operating system
User Interface: Simple drop-down, menu-driven operation Menu navigation using articulation joystick
File Manager: Embedded file manager software supporting: File and Folder creation, naming, deleting Store to internal flash (C:) or USB ThumbDrive Copy between USB and C:
Audio Data: PC compatible (.AAC) file format
Image Control: Invert, Zoom (5X digital) Image Capture and Recall
Digital Zoom: Continuous (5.0X)
Image Formats: Bitmap (.BMP), JPEG (.JPG)
Video Format: MPEG 4
Text Annotation: Built-in full screen text overlay generator
Graphic Annotation: User placement of arrows
Articulation Control:

"Steer & Stay" articulation lock/fine articulation
Tip "Home" return to neutral forward-tip orientation
User-selectable fine or coarse control
XpertSteer probe articulation offers quick steering responsiveness for tight probe control - bump steering enables slight adjustments to probe position

Software Updates: Field updateable via USB ThumbDrive
Languages: English, Spanish, French, German, Italian, Russian, Japanese, Korean, Portuguese, Chinese, Polish
Camera
5.0 mm (0.197), 6.1 mm (0.242 in) and 8.4 mm (0.331 in) Diameter Probes

Image Sensor: 1/6 inch Color SUPER HAD™ CCD camera
Pixel Count: 440,000 pixels
Housing: Titanium

3.9 mm (0.154 in) and 6.2 mm (0.244 in) Diameter Probes

Image Sensor: 1/10 inch Color SUPER HAD™ CCD camera
Pixel Count: 290,000 pixels
Housing: Titanium
Tip Articulation
| | |
| --- | --- |
| Insertion Tube | Length Straight Tube |
| 2.0 m, 3.0 m, 3.2 m, 4.5 m | Up/Down – 160° min, Left/Right – 160° min |
| 6.0 m, 8.0 m, 9.6 m | 150° min, Left/Right – 150° min |
CAMERA DIAMETER
INSERTION TUBE WORKING LENGTH
3.9 mm (0.154 in
2.0 m (6.6 ft)
3.0 m (9.8 ft)
5.0 mm (0.197 in)
2.0 m (6.6 ft)
3.0 m (9.8 ft)
6.1 mm (0.242 in)
2.0 m (6.6 ft)
3.0 m (9.8 ft)
4.5 m (14.8 ft)
6.0 m (19.7 ft
8.0 m (26.2 ft)
6.2 mm (0.244 in)
3.2 m (10.5 ft)
8.4 mm (0.331 in.)
2.0 m (6.6 ft)
3.0 m (9.8 ft)
4.5 m (14.8 ft)
4.5 m (14.8 ft)
8.0 m (26.2 ft)
9.6 m (31.5 ft)
Download XL Go VideoProbe Remote Visual Inspection Datasheet.pdf XL Go VideoProbe Operating Manual English.pdf